New Mexico Merriam Turkey Hunts
All of our spring turkey hunts take place in the Lincoln National Forest of New Mexico. Merriam wild turkeys spend their summers in the higher elevations, breeding, and move down in elevation for the winter months. Merriam's appear black with iridescent hues of gold, purple, and blue. Merriams have keen eyesight and excellent hearing, making them a challenging hunt for even seasoned hunters. Mating season coincides with the arrival of warmer, longer days in late March and early April. It is not uncommon to hear birds gobbling from over a mile away on calm spring days. We typically roost 4-6 gobblers each evening during the peak of their mating season.
Over the last 5 years, we have averaged 90% shot opportunity on mature gobblers. For the spring turkey season you are allowed to harvest two bearded turkeys. All 3 day hunts include 4 nights of wall tent or cabin accommodations, meals, beverages, and professional guide service for the entire length of your hunt.
For any questions or to proceed with booking your hunt for the upcoming spring turkey season, call us at 505-506-6704. We look forward to having you as our guest!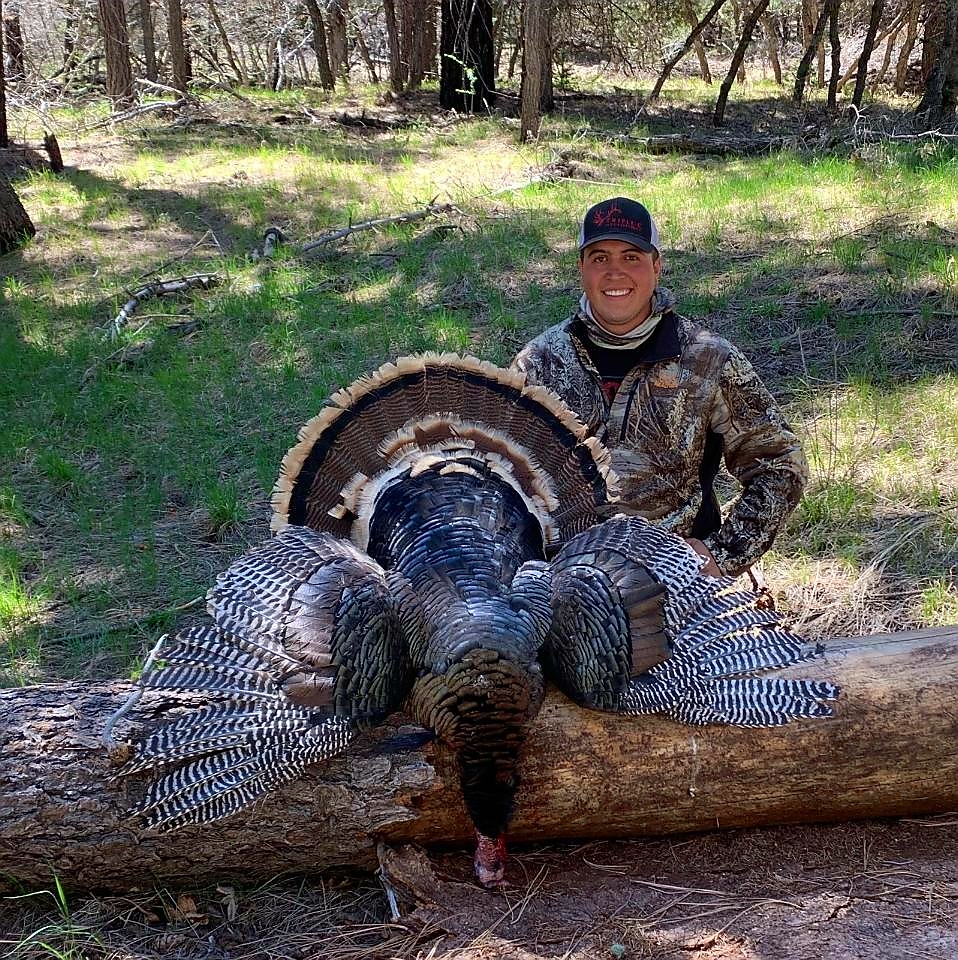 Typical Day Turkey Hunting
After a early breakfast at camp, guests will depart for the field with their guides. It is typically a 20-30 minute drive to reach pre-scouted hunting grounds in the surrounding national forest. Your guide will have all the necessary calls, decoys, and blinds to successfully hunt these high country gobblers. Around noon, we will break for a field lunch followed by a midday rest. In the afternoon, we are back at it, chasing gobblers until last light. Shortly after arriving back at the camp, guests will be served a home cooked dinner. After dinner, you are on your own to enjoy the outdoor atmosphere around camp.
Pricing for our all-inclusive 3 day, 4 night spring turkey hunt is $1,750/person for 2x1 guide service (requires 2 hunters to book). Pricing for the 2 day Youth only hunt is $1000/person. 1x1 guide service is available for an additional $750/hunter.
Includes 3 days guide service, 4 nights lodging, meals and beverages
We require a minimum of 2 hunters per 3 day hunt period.
Non-hunting guest rate is $100/day.
50% deposit required within 5 days of booking your hunt, remaining 50% due 5 days prior to scheduled hunt.
Pricing does not include 7% NM sales tax, license cost, or customary guide gratuity.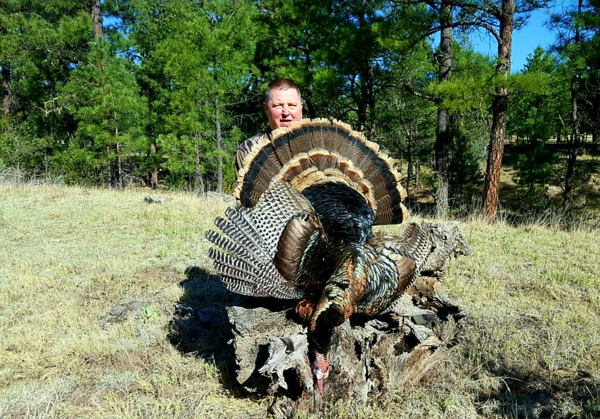 Things to Know about Turkey Hunting
The spring turkey season in NM is April 15 - May 10. An early Youth-only hunting season is scheduled for April 10-12. Turkey tags are available over-the-counter.
You are required to purchase a game hunting license plus the habitat stamp and HMAV stamp for all turkey hunts.
Bag limit for the NM spring season is 2 bearded turkey.
You may legally use any shotgun or bow/arrow during the spring season.
The ratio of hunters/guide shall be 2/1, unless specific arrangements have been made for 1/1 guide service.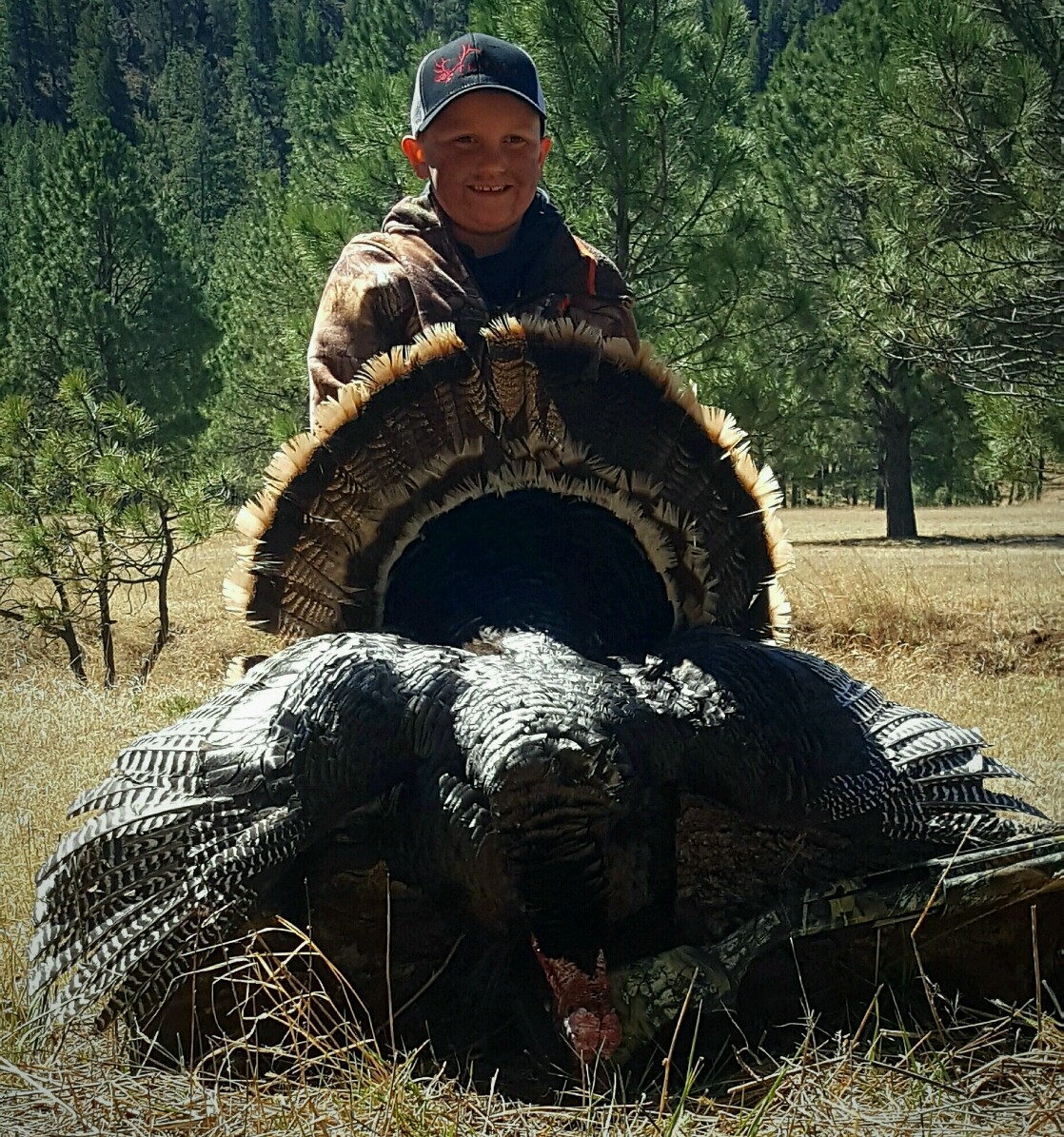 Ready To Book Your Turkey Hunt?